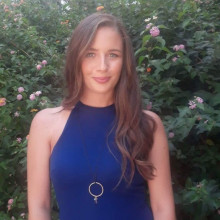 Office Phone: (+30)2810 39 1888
Lab Phone: (+30)2810 39 1888
Email: ferenikimosho@hotmail.com
Fereniki Moschogiannaki is an M.Sc. student in the master program
"Biomedical Engineering'' at the Department of Medicine at the
University of Crete in Greece. She graduated from the Physics Department
of the University of Crete in 2020. In 2018, she joined the "Ultrafast
Laser Micro and Nano Processing" Group of the IESL, FORTH for her
Internship. She did her bachelor thesis, titled "Laser Microfabrication
of Porous Collagen Scaffolds for Biological Applications", in
co-operation with the Neural Tissue Engineering Laboratory. Her current
research interests include bioengineering, biofabrication, biomaterials
and regenerative medicine.


Education
2020 – Today, M.Sc. Student - Department of Medicine, University of Crete, Greece.
2020 – Bachelor degree in Physics from University of Crete, Greece.
Career
03/2019 – 02/2020, Bachelor thesis, at FORTH, IESL, IMBB, Heraklion, Crete, Greece
06/2018 – 09/2018, Internship, IESL, FORTH, Heraklion, Crete, Greece
Interests
Bioengineering
Biofabrication with ultrashort pulsed laser
Biomaterials
Regenerative medicine