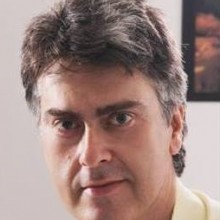 Office Phone: (+30) 2810 391362
Email: labrakis(AT)iesl.forth.gr
Physicist, MSc.

2003 -
Technical Scientist at IESL-FORTH, Laser Group. Main areas of activity: Tunable and solid state nanosecond lasers, high/ultrahigh vacuum technology, cryogenics, laboratory safety and waste management, 2D/3D CAD design/modeling of parts/apparatus/setups.
Education
09/1998 - 12/2000 MSc, Applied Molecular Spectroscopy, Dept of Chemistry, Univ. of Crete
09/1992 - 09/1998 BSc, Physics, Univ. of Crete (specialized in lasers/optoelectronics)
Interests
Laser Science
Vacuum Technology
3D CAD Design/Modeling
Chemistry
Other
Research Experience
12/1999 - 12/2000 Graduate Thesis, "Desorption Dynamics in the UV Ablation of Molecular Solids",
IESL-FORTH
12/1996 - 06/1998 Undergraduate Thesis: "Ablation: Formation/Desorption Mechanisms of Photoproducts
Below and Beyond Ablation Threshold of C6H5Cl van der Waals molecular solids",
IESL-FORTH
"Pulse Dependence of Ejection Efficiencies in the UV Ablation of Bi-Component van der Waals Solids"
A. Koubenakis, J. Labrakis, S. Georgiou
"Photoproduct desorption dynamics in the UV ablation of model molecular solids. Ablation of chlorobenzene films at 248 nm"
S. Georgiou, A. Koubenakis, J. Labrakis, M. Lassithiotaki
"Formation and desorption dynamics of photoproducts in the ablation of van der Waals films of chlorobenzene at 248 nm"
S. Georgiou, A. Koubenakis, M. Lassithiotaki, J. Labrakis