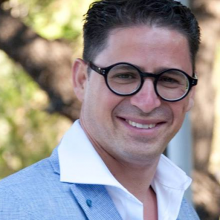 Office Phone: (+30) 2810 39 4132
Email: manos.trichas@iesl.forth.gr
Dr Emmanouil (Manos) TRICHAS is an Innovation & Technology Manager - Business Developer. After a career as an associate researcher of IESL/FORTH and the micro/nano-electronics research group of the Materials & Devices Division, with interests in micro- and opto-electronic materials and devices, he switched in the innovation management, the set-up of high-tech ventures and the commercialization of "deep tech" innovations.
He launched his latest career as the Manager of the Regional Patent Library of Heraklion of the Organization of Industrial Property (www.obi.gr), the actual national patent office of Greece. Today, he works as a Business Development Manager under the framework of the SMARTEC – FTI/H2020 project, while he teaches three undergraduate courses on innovation, intellectual property and entrepreneurship, at the Materials Science & Technology Department / University of Crete.
Some words about the SMARTEC project: Its objective is a small manufacturing scale industrial pilot line for transceiver modules for next generation smart RF power applications. It aims to implement a new technology based on a monolithic integration of coplanar GaN MMIC and capacitive RF-MEMS switches for higher integration, higher performances and lower cost production. Manos' main task is the entire marketing & business development strategy, as well as the entire technology portfolio management and the establishment of internal business operations.
Education
2018, Master in Business Economics -Technology & Innovation Management, University of Crete, Wageningen University, University of Cyprus
2012, BEng in Civil Engineering, Dpt of Civil Engineering, Technological Educational Institute of Crete, Greece
2011, PhD in Materials Science & Technology, Dpt of Materials Science & Technology, University of Crete, Greece
2003, MSc in Physics of Materials, Dpt of Physics, Aristotle University of Thessaloniki, Greece
2001, BSc in Physics, Dpt of Physics, Aristotle University of Thessaloniki, Greece
Career
2020 - Today, Business Developer & Innovation Manager- SMARTEC/FORTH, FORTH - IESL, Greece
2019 - Today, Visiting Lecturer, Dpt of Materials Science & Technology, University of Crete, Courses on Innovation, Entrepreneurship & Intellectual Property
2018 - 2020, Manager of Patent Library of Heraklion, OBI, Greece
2017, Internship as Business Developer ProtAtOnce, Crete, Greece
2015, Researcher - MRG's Principal Investigator, FORTH - IESL, Greece
2012 - 2014, Researcher - Engineer, FORTH - IESL, Greece
2011 - 2012, Visiting Lecturer, Dpt of Materials Science & Technology, University of Crete, Course: Properties of Materials
2011, Engineer, Domiki Kritis SA, Crete, Greece
2006 - 2010, Doctoral Researcher, FORTH - IESL, Greece
2004 - 2005, Researcher, FORTH - IESL, Greece
2002, Quality Control Assistant, Plastika Kritis SA, Crete, Greece
Interests
Corporate & Business Strategy
Global Value Chain Analysis
Market & Rivalry Analysis
Technology Scouting
"Deep Tech"- based Innovations
New Product Development
Business Intelligence
Intellectual Property
Technology Transfer
Innovation Policy
Innovation Networks