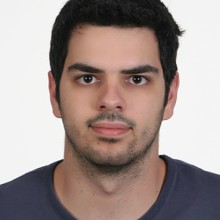 Email: i.makos(AT)iesl.forth.gr
Education
016–present Doctor of Philosophy , Institute of Electronic Structure and Laser, Foundation for Research and Technology - Hellas, Heraklion, Greece.
2013–2016 Master of Science in Photonics , Friedrich Schiller University, Faculty of Physics and Astronomy, Jena, Germany, Grade – 1.6 (9 out of 10)
2006–2013 Diploma of Physics , University of Ioannina, Department of Physics , Ioannina, Greece, Grade – 7.7 (out of 10).
Awards/Prizes/Distinctions
2016–present Early Stage Researcher Fellow of Marie Skłodowska-Curie Actions (MSCA) Innovative Training Networks (ITN) H2020-MSCA-ITN-2014
2013–2015 Scholarship holder of the Graduate program offered by Abbe School of Photonics of the Faculty of Physics and Astronomy at the Fridriech Schiller University Jena.
2013 Graduated with honour 1 st among 40 who graduated in the July 2013 ceremony of 2012-13 academic year.