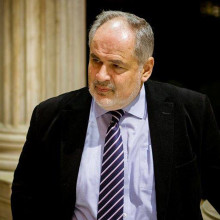 Office Phone: (+30) 2810 391316
Email: fotakis@iesl.forth.gr
Costas Fotakis is currently Emeritus Professor of Physics at the University of Crete and Distinguished Member of the Foundation Organization for Research and Technology (FORTH). He has served as Alternate Minister for Research and Innovation from January 2015 till July 2019. During this time, he designed and implemented Research and Innovation policies in Greece and participated in the EU Research Ministers Council.
Interests
laser spectroscopy and photonics
laser interactions with materials and biomaterials and related biomedical diagnostic and processing applications.
Awards/Prizes/Distinctions
2004 'Leadership Award' of the Optical Society of America (OSA)
Springer Professor at the University of California, Berkeley for 2005-6
Life Member and Fellow of OSA
Member of the Fellows Committee of the European Optical Society (EOS)
Honorary Doctorate by the Mediterranean University of Marseille.