DR. GIANNIS ZACHARAKIS, PRINCIPAL RESEARCHER, TOOK OVER RESPONSIBILITIES AS PRESIDENT OF ESMI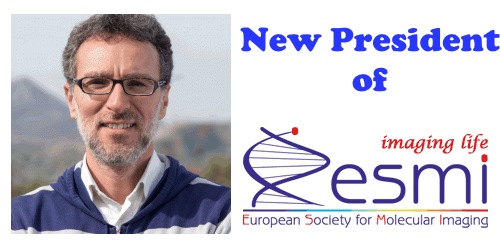 Great distinction for Dr. Giannis Zacharakis, Principal Researcher at the Institute of Electronic Structure and Laser of FORTH, who took over responsibilities as President of the European Society for Molecular Imaging (ESMI). Dr. Zacharakis succeeded in the presidency Professor Kevin Brindle of the University of Cambridge following the end of the annual conference of the Society in Glasgow on 19-22 March 2019.
Dr. Zacharakis, after one year as elected Vice President of the Society, will remain in the position of President for one year and will be in charge of managing, representing and promoting the aims of the Society as well as chairing its annual conference. The European Molecular Imaging Meeting (EMIM) will be organized in 24-27 March 2020 in Thessaloniki, Greece (http://www.e-smi.eu/index.php?id=1976). Dr. Zacharakis is the first Greek to assume the position of President of ESMI and continues a tradition of ten leading scientists from all over Europe.